GE GSHS6HGDSS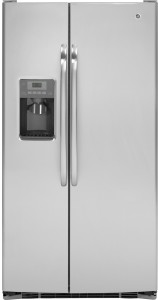 Side-By-Side RANK: DISCONTINUED
The GE GSHS6HGDSS is a quality side-by-side refrigerator ranked at #10 on our list simply because the energy efficiency and internal temperature consistency – the major focal points when buying a refrigerator – are quite underperformed in comparison to the 9 models we reviewed so far.
Nevertheless, this model is an affordable refrigerator, so if you're on a budget, you can opt for this GE unit that comes with easy-to-read controls and great features. The exterior is stainless steel, while the interior is organized and clean. The moisture retention in the drawer for vegetables is one of the best features this refrigerator has; your vegetable will remain delicious and crisp longer than average.
Details:
| | |
| --- | --- |
| Dimensions (WxHxD): | 35.75″ x 69.5″ x 43.75″ |
| Weight: | 320 lbs. |
| Capacity (cu.ft.): | Total Capacity: 25.9 cu. ft. —> Refrigerator: 16.1 cu. ft., Freezer: 9.8 cu. ft. |
| Configuration: | Side-by-side, freezer inside |
| External Ice/Water Dispenser: |  Yes |
| Gallon Door Storage: | Adjustable gallon door bins for holding larger, gallon-sized containers. |
Adjustable shelf:
Yes
Drawers:
Crisper: humidity controlled crisper drawer; Deli: one deli drawer.
Shelves:
3 refrigerator shelves; 4 refrigerator door shelves (all made of glass)
Freezer Drawers/Bins:
4 freezer drawers; 4 freezer door drawers.
Features:

UltraFlow 64 Integrated Dispenser – specifically designed for dispensing 64 ounces of filtered and clean water per minute.
Freshness Center – the air movement in the drawers is removed, so your fruit and vegetable will retain moisture. If you set the humidity control on high, the air vents will be closed for blocking circulation, and the humidity levels will be great for vegetables. If you set the humidity level on low, the air vents will be opened and will allow circulation, creating humidity levels perfect for thick-skinned vegetables and fruits.
Stainless Steel Exterior – adds elegance to the kitchen decor.
Adjustable Gallon Door Bins – for holding larger, gallon-sized containers. The door liner supports heavy weights, allowing positioning at various heights.
Adjustable Spill-Proof Glass Shelves – each shelf holds up to 12 ounces of liquid.
Arctica Icemaker – holds up to 10 lbs. of ice – great for parties and large family dinners.
GE Water Filtration – odors and contaminants are reduced from the water, while the following impurities are removed: chlorine, microbiological cysts, lead, asbestos, mercury, p-dichlorobenzene, benzene, herbicides and pesticides.
In-the-door can rack – making your beverages easy to grab.
AutoEnergy Saver – adjusts the operation cycles accordingly.
FrostGuard Technology – the controlled defrosting is keeping frozen food from feeling the burn.

Materials:
Stainless Steel
Color:
White, Black, Bisque, Stainless Steel.
Ratings Electrical Requirements:
Standard voltage electricity (120V, 60Hz)
Warranty:
1 Year Parts and Labor.

Images:

Video:
Pros and Cons:

Positives:

Innovative technology.
Affordable price.
Stylish exterior and organized interior.
Easy-to-use controls.
Great temperature accuracy.

Negatives:

Waterline freezes.
Underperformed energy efficiency and internal temperature consistency.
The paddle's curved design of the water dispenser doesn't every glass shape.
Problems with temperature shifts.

Negatives common to all counter depth refrigerators:

Less capacity in comparison with standard refrigerators due to the shallow design to fit kitchen counters.
In general more expensive than standard refrigerators.
Rating:

Design:
8/10
Capacity:
9/10
Features:
8/10
Intelligent Storage:
8/10
Energy Efficient:
7/10
Quiet:

10/10

Quality of Cooling:
9/10
Fresh Air:

10/10

Affordable:
9/10
Reliability:
7/10
Total Score: 85 %
Here you can find and compare user comments and prices from different online stores. Just a small advice – if you find a lot of positive reviews and some negative ones, it usually means that the complaining people don't use the machine properly, or received some defective piece.
Online Store
Price
Link
HomeDepot.com
$1,399.00
DISCONTINUED
Amazon.com
$1,349.00
DISCONTINUED
Conclusion: All in all, the GE GSHS6HGDSS is not a bad refrigerator, but it's not as good as the previous models we already reviewed here, especially when it comes to performance. If you're a salad lover though, you'll love the vegetable drawer that minimizes the moisture loss.